301 Front Street West, Toronto, ON, Canada
301 Front Street West Toronto Ontario M5V 2T6 CA
A popular tourist attraction located in downtown Toronto that features excellent sightseeing. Explore a memorable view of Toronto, Canada and a selection of North American cuisine when visiting this very unique building.
Recreation
Restaurant, Cafe, Shopping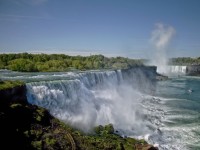 Niagara Falls, ON, Canada 66.16 km

One of Canada's most famous natural attractions that features majestic waterfalls and local...