206 Clarendon St, Boston, MA 02116, United States
206 Clarendon Street Boston Massachusetts 02116 US
This very old church was built in 1733 and is one of the most recognisable structures in the Boston area. It is located in the Back Bay of Boston and is open to the public for tours daily.
Facilities
Parking, Meeting Area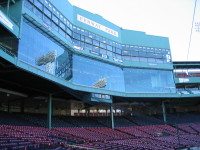 4 Yawkey Way, Boston, MA 02215, United States 1.97 km

Classic baseball park located in Boston, Massachusetts, United States that has a lot of tradition...