350 5th Ave, New York, NY 10118, United States
350 5th Avenue New York New York 10118 US
Famous building in New York City that offers amazing scenic tours from the center of Midtown Manhattan. Observation decks on the 86th and 102nd floors are open to the public for tours daily.
Facilities
24 Hour Front Desk, Meeting Area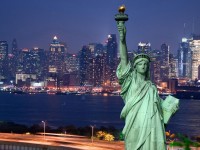 Liberty Island - Ellis Island, New York, NY, United States 7.29 km

Very famous national monument statue in New York Harbor in New York city. Recognized worldwide as...